A Haunting in Venice, a masterful adaptation of Agatha Christie's "Hallowe'en Party," invites you into a world where supernatural claims intertwine with murder mysteries. Kenneth Branagh's portrayal of Hercule Poirot will keep you on the edge of your seat, as the Belgian detective is pulled out of retirement to investigate the dubious and otherworldly.
A Haunting in Venice
Branagh's evolving confidence as a director in the murder mystery genre is evident throughout the film. "A Haunting in Venice" is a visual delight, paying homage to iconic directors like Fritz Lang and Orson Welles. The Venetian villa, the primary setting for the movie, is transformed into a Gothic castle, creating a moody and suspenseful atmosphere that captivates the audience.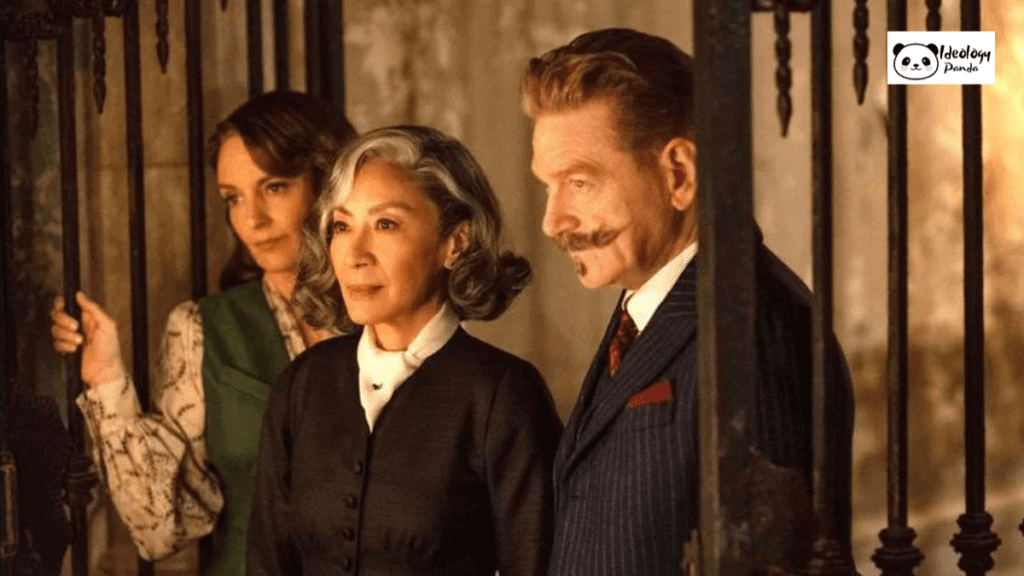 A Halloween Treat
As the scariest of Branagh's detective movies, "A Haunting in Venice" is the perfect choice for a Halloween watch. It successfully balances elements of horror and intrigue, with compelling evidence of the supernatural and death lurking at every corner. While it may not reach full horror-movie levels of terror, it provides a spine-tingling experience for viewers.
Stellar Performances
The film boasts exceptional performances, with Kenneth Branagh delivering a standout portrayal of Poirot. He expertly combines arch humor with the weight of a detective who has seen his fair share of death, creating a multifaceted character that captivates the audience. Supporting cast members like Camille Cottin and Michelle Yeoh add depth to the story with their stellar performances, enriching the narrative and adding layers of intrigue.
However, it's essential to mention that Tina Fey's performance as Poirot's author friend, while competent, falls slightly short in comparison to the remarkable performances of her co-stars. This minor quibble doesn't diminish the overall enjoyment of the film, which remains an engaging and entertaining cinematic experience.
Branagh's Passion Project
Branagh's passion for Poirot adaptations is vividly evident in every frame of the film. His dedication to the character is palpable as he revels in the role, infusing Hercule Poirot with the charisma and quirks that have made the character iconic. As both an actor and filmmaker, Branagh wholeheartedly embraces his Poirot projects, finding immense joy in bringing this beloved detective to life on the screen.
His enthusiasm extends beyond his portrayal of Poirot; it encompasses his skillful direction and storytelling. Branagh's ability to adapt and repurpose directing styles and camera movements is showcased in the film. He skillfully draws inspiration from the source material and the cinematic eras of the past, effectively blending them to create a captivating and visually appealing narrative.
Branagh's passion for the character and the genre is not only a testament to his love for storytelling but also promises a bright future for Poirot adaptations. As he continues to refine his craft and explore new facets of this iconic detective, audiences can eagerly anticipate more engaging and enjoyable mysteries on the horizon.
In Conclusion
In conclusion, "A Haunting in Venice" is a must-watch for fans of murder mysteries and Hercule Poirot. Branagh's dedication to the genre and his growing expertise promise even more delightful adaptations in the future. So, immerse yourself in the world of Poirot and enjoy the spine-tingling mystery.
FAQs
Is "A Haunting in Venice" based on an Agatha Christie novel? Yes, it is adapted from Agatha Christie's "Hallowe'en Party."
What sets "A Haunting in Venice" apart from other Poirot adaptations? The movie combines supernatural elements with a murder mystery, offering a unique twist on the classic detective story.
Is "A Haunting in Venice" suitable for a Halloween watch? Absolutely! It's the scariest of Branagh's detective movies, making it a perfect choice for Halloween.
How does Kenneth Branagh perform as Hercule Poirot? Branagh delivers an exceptional portrayal, capturing the essence of the iconic detective.
Are there more Poirot adaptations in the pipeline from Kenneth Branagh? The film reflects Branagh's passion for Poirot adaptations, suggesting the possibility of more to come in the future.