Introduction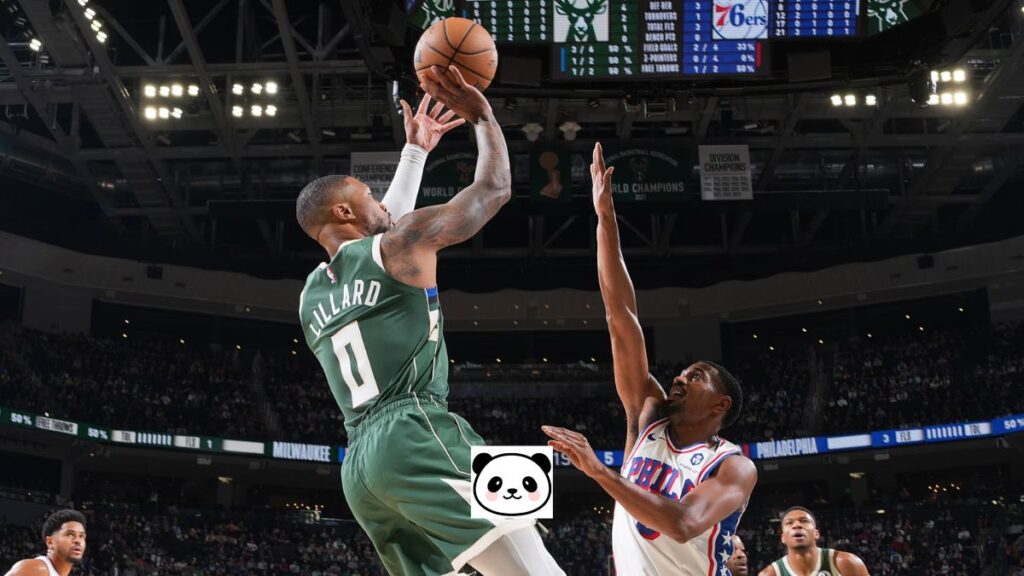 For the Milwaukee Bucks, Damian Lillard—a name linked to clutch performances and incredible three-pointers—has shown himself to be a savior. The squad has newfound vigor since his arrival in Milwaukee, and they now appear to be genuine title contenders. This piece will examine the considerable influence Damian Lillard has already had on the Bucks and the implications this has for the team's future.
A New Hope for the Bucks
Without a doubt, the Milwaukee Bucks were a talented club prior to the arrival of Damian Lillard. They had won the 2021 NBA Championship and had advanced significantly in the NBA under the direction of their superstar, Giannis Antetokounmpo. But as the league's competitiveness increased, the Bucks realized they needed more to maintain their position as consistent contenders.
DAMIAN LILLARD AS ADVERTISED. pic.twitter.com/NuqdzO4dzm

— Milwaukee Bucks (@Bucks) October 27, 2023
The Bucks had their share of difficulties, but they were always a dangerous squad. Giannis was frequently the center of attention for them, which put a great deal of pressure on him to continually deliver outstanding play. Damian Lillard enters the picture here because it was concerning that there wasn't a solid backup plan.
Lillard's Arrival
After a sensational deal that rocked the NBA, Damian Lillard found himself playing for the Milwaukee Bucks. Basketball fans everywhere were thrilled about the trade and couldn't wait to see Lillard and Giannis together.
Lillard gave the Bucks' offense a fresh angle. He is renowned for his long-range shooting, superb ball handling, and capacity to win games in the last seconds. His addition gave the other players on the club new possibilities while also relieving some of Giannis's offensive load.
The Impact on Offense
The offense of the Bucks has significantly improved since Damian Lillard joined the team. The combination of Giannis' extraordinary mobility and Lillard's ability to score has made the team's offense more dynamic and challenging to stop. Given how easily either Giannis or Lillard can take control of a game, opposing teams are frequently forced to choose a poison.
Lillard has been especially useful with his three-point shooting. He has a talent for extending the field and opening up space for his teammates when he makes a three-pointer. The Bucks' role players, such as Bobby Portis and Khris Middleton, have benefited greatly from this additional spacing. Due to Lillard and Giannis' increased attention, Middleton in particular has profited from more open looks and scoring chances.
The Lillard-Giannis Duo
It's amazing to watch Damian Lillard and Giannis Antetokounmpo work together. The chemistry between these two superstars has grown swiftly, and they could dominate the league for years to come. Giannis' ability to draw defense and drive to the basket well balances Lillard's shooting abilities. The Bucks are now a more adaptable and unpredictable squad as a result of this inside-outside dynamic.
ARE YOU KIDDING ME, DAMIAN LILLARD?!

He's got 37 in his debut 🤯 pic.twitter.com/TS44KR2MOz

— NBA (@NBA) October 27, 2023
Opposing defenders frequently have to make a tough decision. Giannis can be double-teamed to stop him from getting to the hoop, but it opens up space for Lillard to shoot threes. But, if they decide to concentrate on Lillard, Giannis takes advantage of the mismatch down low. In close games, this "pick your poison" situation has provided the Bucks a considerable advantage.
Lillard's Clutch Factor
Damian Lillard's capacity to perform well under duress is one of his best-known traits. His confidence in the last stages of the game is infectious, and he excels in critical circumstances. The Bucks now have a true closer in Lillard, one who they can count on to take and convert crucial shots when the game is close.
Lillard's clutch factor has already saved the Bucks many times in close games. He has made important free throws, made game-winning shots, and choreographed pivotal plays in the closing minutes. The team's winning mindset has been ingrained in the Bucks, who are now a tough opponent for any team due to their dependability in crucial situations.
The Impact on Team Morale
The addition of Damian Lillard to Milwaukee has improved team spirit in addition to producing results on the floor. His professionalism, work ethic, and leadership abilities have improved the locker room atmosphere for the Bucks. Players have mentioned how Lillard's zeal and intensity throughout practices and games have helped the squad develop a winning culture.
Because Lillard and Giannis are now the two leaders of the Bucks, there is less pressure on any one player. The players' sense of unity and camaraderie has grown as a result, which improves their capacity to function as a cohesive team.
Fan Excitement
The addition of Damian Lillard to the squad has thrilled Bucks supporters all over the world as well as the city of Milwaukee. The fan base is feeling excited again thanks to Lillard's star power and reputation. Attendance at the Bucks' home venue, the Fiserv Forum, has increased, and game-time energy has increased.
In addition, the "Lillard Effect" has increased demand for tickets, team products, and general fan interest. Supporters don Lillard's jersey with pride, and the term "Lillard Time" has gained traction in Milwaukee as a way of referring to the exciting moments he produces.
Playoff Aspirations
Now that Damian Lillard is a member of the team, the Milwaukee Bucks are focused on winning another title. The group is a formidable force in the postseason thanks to their mix of skill, camaraderie, and clutch plays.
The Bucks are a dangerous postseason opponent because of Giannis' amazing athleticism and adaptability as well as Lillard's experience playing in high-stakes playoff games. They are capable of competing for an NBA championship and going head-to-head with the top teams in the league.
Conclusion
The addition of Damian Lillard to the Milwaukee Bucks has revitalized the team and made them serious contenders for a title. His effect on the offense, his connection with Giannis Antetokounmpo, and his clutch plays have already helped the Bucks come through several times. A winning culture has been established by Lillard's professionalism and leadership, which have also had a good impact on team morale.
With the team's playoff hopes elevated and the "Lillard Effect" galvanizing supporters, the Bucks are well-positioned to go deep into the postseason and even win another NBA championship. With Damian Lillard already leaving an enduring impression on the Bucks, Milwaukee's cherished franchise appears to have a bright future.
Damian Lillard has drained 37.2 percent from beyond the arc in his career.
He has averaged 25.2 points, 6.7 assists and 4.2 rebounds in 769 regular-season games.
After signing a record-breaking five-year contract for $201 million in 2017, Stephen Curry became the first player to make over $40 million a year. He began the contract with $34,682,550 in the 2017–18 season and ended it with the greatest earnings in the 2021–22 season with a record payment of $45,780,966, Should Curry's contract be extended, he will…
Damian Lillard is regarded as a top-10 player in the NBA, having spent 11 seasons with the Portland Trail Blazers and making seven all-star teams.
DAMIAN LILLARD CAREER HIGH 71 POINTS! ⌚️ 📊 71 PTS, 6 REB, 6 AST, 22/38 FGM, 13/22 3PM, WIN EIGHTH PLAYER IN NBA HISTORY WITH A 70-POINT GAME!