What Happens Later (2023)
In What Happens Later (2023) Meg Ryan takes on a dual role, both behind and in front of the camera, serving as director and co-writer. This romantic comedy delves into the complexities of relationships and the human need for reconciliation. It marks a delightful return for Ryan to the silver screen, a genre she helped revive alongside renowned filmmakers like Rob Reiner and Nora Ephron, to whom this film is dedicated.
The Refreshing Spin

In "What Happens Later (2023)" adapting Steven Dietz's play "Shooting Stars," Ryan provides a fresh perspective on the romantic comedy formula. She subverts it, emphasizing witty repartee and poignant moments within the storyline. It's evident that she may have imbibed inspiration from her experiences working with Reiner and Ephron. "What Happens Later (2023)" is a prime example of the innovative approach taken by USA movies in 2023.
A Chance Encounter
In What Happens Later (2023) " the story unfolds with a metaphorical scene – two snowflakes swirling in the sky and eventually converging at a regional airport. Bill (David Duchovny) and Willa (Meg Ryan), former lovers bound for different destinations, accidentally cross paths after 25 years. Their rekindling is strained, as they initially engage in small talk, which quickly gives way to discussions about the complexities of their past, insecurities, and lingering resentments. The widescreen format emphasizes the distance between them, with Willa on one end and Bill on the other.
Their aspiration to part as friends instead of foes appears improbable until a monumental storm forces them to spend the night together. Their heated conversations oscillate from global issues to their personal lives. Bill, a pragmatic man dealing with anticipatory anxiety and a recent separation from his wife, seeks to reconcile with his daughter. Willa, a free-spirited wellness enthusiast, grapples with her own hidden struggles. As they navigate their past and present, they unearth uncomfortable truths and rekindle the spark that never completely faded. "What Happens Later (2023)" showcases the kind of compelling storytelling that exemplifies the innovative approach of USA movies in 2023.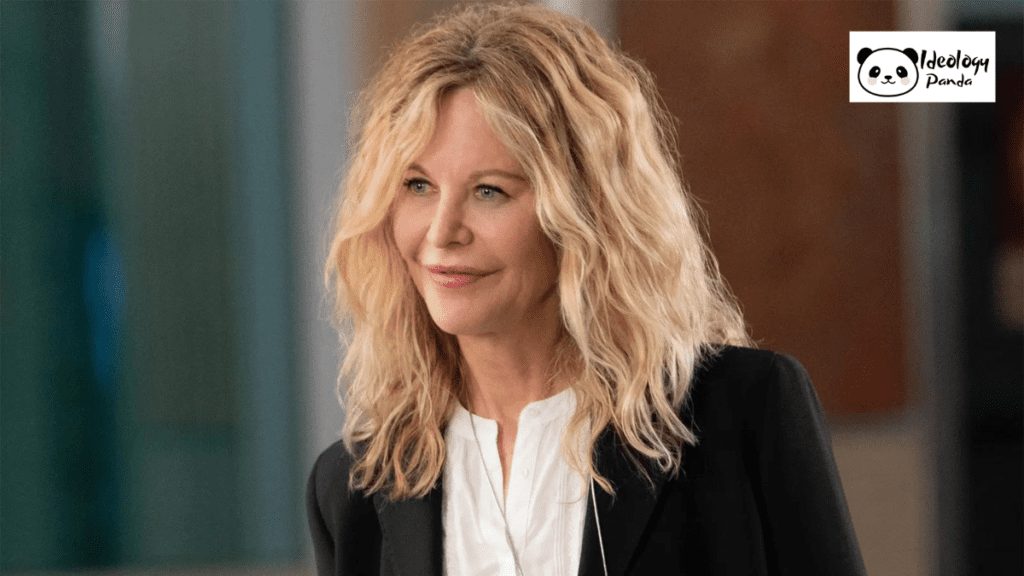 A Focus on Dialogue
In What Happens Later' Review (2023)" similar to "Destination Wedding," the film compels viewers to concentrate on the dialogue between two individuals rather than the background noise and extras, adding authenticity to the setting. Despite being based on a play, it never feels stagey. The film maintains a crisp, vibrant energy as the settings change, broadening the scope of their function. The dialogue flows naturally, never appearing rehearsed. The sound design heightens the tension, particularly when the storm rages in the background while Willa and Bill argue, or when '90s pop hits play in the soundtrack.
Themes of Connection and Love
Themes of connection and the fleeting nature of love resonate throughout the film, not just in the narrative but also in the production design. The giant metallic heart sculpture and paper plane installation add depth to the story. Costume designer Kiley Ogle dresses the characters in shades of black and white, reflecting the gray areas in Willa and Bill's perspectives on their past romance. Ryan and cinematographer Bartosz Nalazek capture the characters' introspective facets. "What Happens Later (2023)" exemplifies the kind of artistry and storytelling that distinguishes the innovative approach of USA movies in 2023.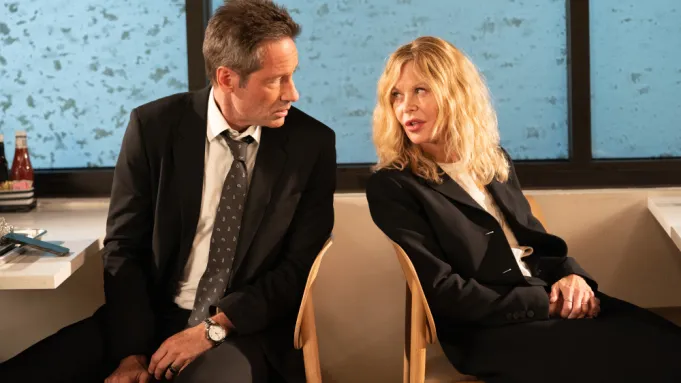 A Unique Narrator
The film introduces a unique element through the voice of the announcer (voiced by Hal Liggett), who acts as a god-like presence echoing through the airport's PA system. Video boards display thought-provoking messages, reinforcing the film's central themes of connection and transience.
A Touch of Magic
The film reaches its charm peak in a montage where Willa and Bill explore the empty terminals in a golf cart, dancing to "Pure" by The Lighting Seeds in a warmly lit hallway while snow falls outside. This sequence adds an enchanting touch to the story.
Outstanding Performances
In "What Happens Later (2023)," David Duchovny delivers a textured performance, blending comedy with vulnerability, showcasing different facets of his character. Meg Ryan goes deeper into her character's pathos than in her previous romantic comedies, unearthing the vulnerability hidden behind her sunny exterior. The way she alternates between calling her ex Bill, W, or William provides insight into her evolving emotions, from playful to honest, or even keeping him at arm's length. Ryan infuses her character with depth and dimension, making her both adorable and tender.
Conclusion
What Happens Later (2023) is a heartwarming addition to the romantic comedy genre. It deviates from the typical genre tropes, favoring authentic character development over clichés. Meg Ryan's direction and performance breathe new life into the genre, making it a must-watch for fans of heartfelt and relatable love stories.
Frequently Asked Questions
Is "What Happens Later (2023)" a must-see for romantic comedy enthusiasts?

Absolutely! It offers a fresh take on the genre.

How does Meg Ryan's performance compare to her previous romantic comedies?

Meg Ryan delivers a deeper and more nuanced performance in this film.

Does "What Happens Later" rely on typical romantic comedy clichés?

No, the film breaks away from the standard tropes, focusing on genuine character development.

What is the significance of the unique narrator in the film?

The narrator adds a distinctive element to the storytelling, enhancing the overall experience.

What makes "What Happens Later" stand out in the crowded romantic comedy genre?

Its authentic character-driven narrative and memorable performances set it apart from the rest.