Golden leaders anticipate Coors Brewing's influence for another 150 years.
In the heart of downtown Golden, Aimee Valdez descended into the historic Old Capitol Grill, a restaurant she and her husband, Dean, have owned for years. As she navigated through the restaurant, she shared stories and tales of the building's rich history and even some ghost stories. Above, patrons enjoying a late lunch washed down their meals with ice-cold suds, while below, Dean showcased an aged wooden door leading to the basement's keg cooler, a relic from the past.
The Coors Brewing Company, with its iconic name engraved on the building's exterior, once sold its beer from this very spot during its early years. Aimee and Dean proudly cherish their close ties to them, as both spent significant portions of their careers working with or for the brewing giant. Dean, whose father worked at the Coors brewery, followed in his dad's footsteps, beginning with summer jobs and culminating in a 20-year career with them. Aimee's professional journey with them began when she worked for a public relations agency, helping introduce Coors beer to the Michigan market. In 1990, theyrecruited her in-house, and she remained closely connected to the company until 2016.
While Aimee and Dean eventually ventured into the restaurant and bar business, opening a liquor store in 2013 and multiple restaurants in Golden, they've continued to serve Coors products.
"We bleed Coors red," Dean declared. Despite some naysayers, he firmly believes in the positive impact of them on the town of Golden.
Dean's involvement goes beyond his career at Coors; he also chairs the Golden Chamber of Commerce's board. In a similar vein, Aimee's connections with Coors have left an indelible mark on their lives.
Their 150th anniversary celebration may be over, but it shed light on the brewery's enduring economic influence in the community where it was founded and beyond.
Their history is filled with pivotal moments, from pioneering industry-changing innovations to facing controversies regarding labor practices. The brewery's story includes its significant contribution to the beer industry, such as introducing the aluminum can, which revolutionized packaging and recycling for consumers.
However, there have been challenging times, too. They has faced accusations of unfair labor practices and allegations of racist hiring practices. Labor disputes, strikes, and boycotts were part of the company's history, with the Chicano Civil Rights Movement, labor unions, and civil rights organizations joining forces to push back against what they saw as unfair and discriminatory practices. This led to a decade-long boycott led by the American Federation of Labor and Congress of Industrial Organizations.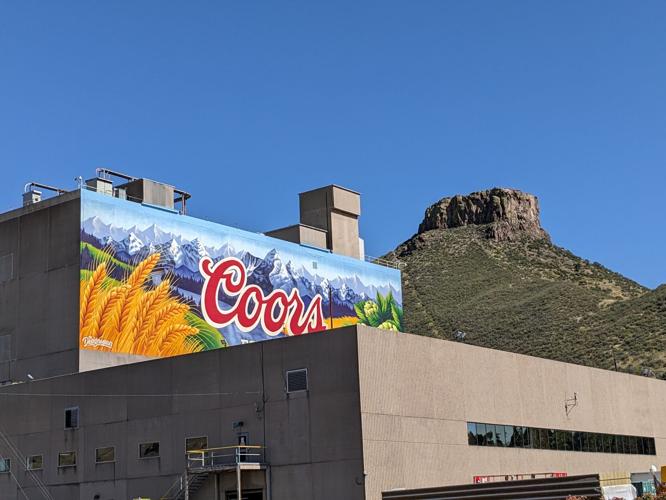 Tensions gradually eased as they engaged in negotiations with various groups, resulting in changes to hiring practices, support for minority-owned distributors, and investments in minority communities. The boycott ended in 1987, though the workers once again rejected union representation.
Today, Coors remains a significant employer in the area, with over 2,150 employees residing in Golden, Jefferson County, or the Denver metro area, according to the City of Golden. The company estimates that it contributes billions to the local economy annually, taking into account jobs, taxes, and tourism.
They continues to invest in the community through its G150 project, which began in 2020 and is expected to be completed in the next year. This project focuses on upgrading the Golden brewery's fermenting, aging, and filtration facilities. Coors brewing has declined interview requests about the G150 project but has indicated that it will bring in more than 450 skilled trade workers and project management personnel at its peak.
The G150 project aims to reduce energy and water usage by at least 20% and waste by 35%, making substantial strides in sustainability. Water usage will decrease by 100 million gallons annually.
they are committed to maintaining good-paying jobs in Golden and throughout Colorado, securing its presence for the future. As a company that has persisted through various challenges, including surviving prohibition, adapting to industry changes, and continuously innovating, Coors is poised to navigate the evolving beverage landscape.
The changing landscape includes shifts in consumer habits, with younger generations drinking less and showing interest in non-alcoholic beverages. These trends create challenges for the beer industry, exacerbated by supply chain disruptions, high inflation, and tightening budgets.
Molson Coors, the parent company of Coors, saw fluctuations in shipments, with sales trending upward in recent years. Nevertheless, the beer industry faces complex challenges, including the increasing costs of transportation and inflation, which may impact consumer behavior.
Despite these challenges, Coors Brewing has maintained a resilient presence in Golden, serving as a tourist attraction and a significant economic contributor to the community. Coors Brewery tours have been a significant draw, with pre-pandemic annual visitation reaching 300,000 people. Although the pandemic led to changes in how tours are offered, approximately 60,000 people still visited the brewery last year, providing economic support to the Golden area.
Their impact goes beyond tourism; it's woven into the fabric of the Golden community. The Coors brand, with its ties to Colorado and Rocky Mountain Spring Water, has become synonymous with the state. Coors products have become a staple in local restaurants and stores, and the brewery has indirectly supported countless businesses and residents in the area.
In addition to the brewing company's impact on local businesses, Coors' influence extends to the brewing industry as a whole. The brewery's advocacy for returning beer to grocery stores and its support for the industry have contributed to the success of craft breweries and microbreweries.
For Karen Hertz, the Chief Brewista at Holidaily Brewing Co., they played a pivotal role in her journey. She worked for Coors in various capacities for eight years before opening her own brewery, Holidaily Brewing Co., which specializes in gluten-free beer. Her experience at Coors prepared her to run Holidaily, and she credits the company with shaping her entrepreneurial spirit.
they has not only been a leader in the brewing industry but has also supported smaller businesses and shared innovations. For Hertz, their involvement in local government-level advocacy, such as bringing beer back to grocery stores, has been noteworthy.
As the beverage landscape continues to evolve, their adaptability and innovation are seen as valuable assets. Challenges like shifting consumer preferences and rising beer prices necessitate flexibility and creativity.
Coors' enduring presence in Golden is a testament to its symbiotic relationship with the city. While there have been differences and rivalries, the Golden community and they have played integral roles in each other's success. Coors is considered a major tourist attraction in Golden, helping put the city on the map.
Looking ahead, it's clear that Coors Brewing's impact is immeasurable, leaving an indelible mark on Golden's past, present, and future. While the company faces ongoing changes in the beverage industry, its ability to innovate and adapt suggests that it will continue to be a key player for years to come. Ther family's technical ceramics company, CoorsTek Inc., is also contributing to Golden's development, with plans for a redevelopment project that is on track to have its first building completed in 2025.
As Peter J. Coors, a fifth-generation family member and director of the Coors Brewery modernization project, aptly puts it, "We thank the people of Golden for being the catalyst of Molson Coors and the growth in Golden." they remains committed to the community that has played a significant role in its history, and it appears that the next chapter of its storied legacy is already in the making.