How Solar Carport Canopy Eases Energy Bill Burden for Families
Northeast Early College High School in Montbello celebrated the successful completion of a $1.5 million solar carport project with a ribbon-cutting ceremony. This initiative is expected to generate $200,000 in annual energy bill credits, which will be directed towards Denver Public Schools families in need. Families participating in this program could save an average of $700 per year on energy costs.
Funded by the Denver Climate Protection Fund, which is supported by a 0.25% local sales and use tax approved by Denver residents in 2020, this project is one of 11 community solar gardens planned as part of the Renewable Denver Community Solar Initiative.
The primary goal of Solar Carport is to reduce carbon emissions and provide various benefits to the community, including electric vehicle (EV) chargers and solar canopies throughout the city. It also involves the creation of job training programs in clean energy and student engagement programs to inspire future leaders in climate sustainability.
DPS Superintendent Alex Marrero emphasized the district's commitment to sustainability and its focus on providing a brighter future for every student. They will continue to prioritize initiatives like Solar Carport that nurture the well-being of students and offer support throughout their educational journey.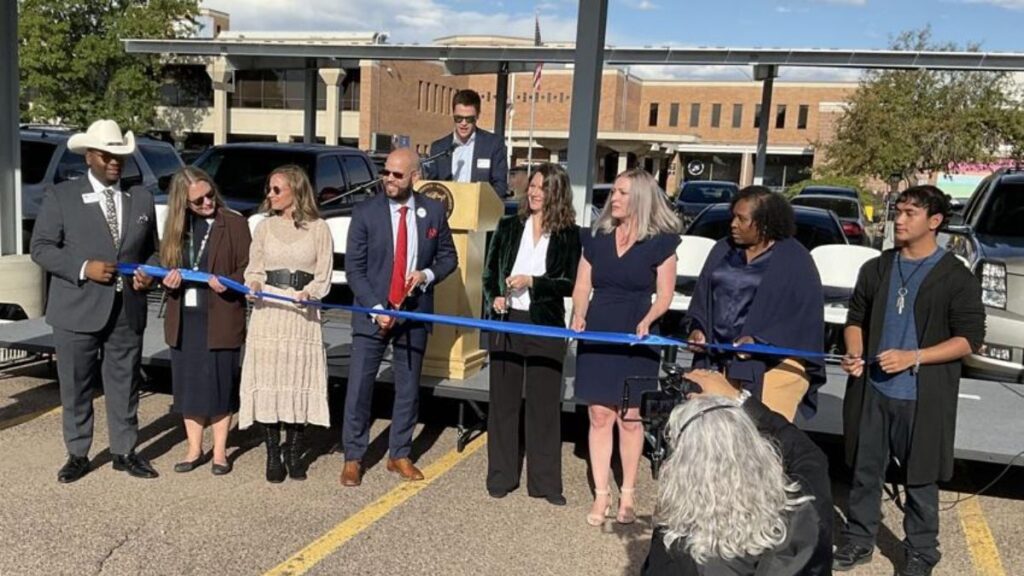 Northeast Early College High School offers a unique learning environment with a focus on rigorous academics, technology, workforce readiness, and project-based learning activities. Remarkably, students have the opportunity to earn a full college associate degree on campus, often graduating from college before receiving their high school diploma. The school, established around 2014, currently enrolls 572 students, according to Principal Jennifer Warren.
LeeAnn Kittle, the Director of Sustainability for DPS, mentioned that the solar carports will integrate renewable energy into the school's curriculum. While students were not directly involved in this project, they will play a role in future sustainability efforts.
The school district has been actively working to reduce energy consumption since 2009, with initiatives like a district-wide LED upgrade. Although the majority of Denver Public Schools currently rely on natural gas, they are progressively moving toward electrification.
The solar carport is a part of Renewable Denver's community solar garden portfolio, expected to produce approximately 10 million kilowatt hours of clean electricity annually.
McKinstry, a national engineering and construction firm and a longstanding energy partner for both the City and County of Denver and Denver Public Schools, is responsible for designing and deploying each of the 11 community solar gardens.
Leslie Larocque, Senior Vice President at McKinstry, expressed pride in supporting Denver's journey towards a zero-carbon future while also enhancing STEM education opportunities. The city's residents have made it clear that community resilience and environmental equity are crucial for the future, leading to new partnerships that accelerate renewable energy for positive change and fiscal responsibility.