US House in limbo as Steve Scalise
Republicans have voted to back Steve Scalise as the next Speaker of the House of Representatives, but it is unclear if he has enough support to win an overall majority in the chamber.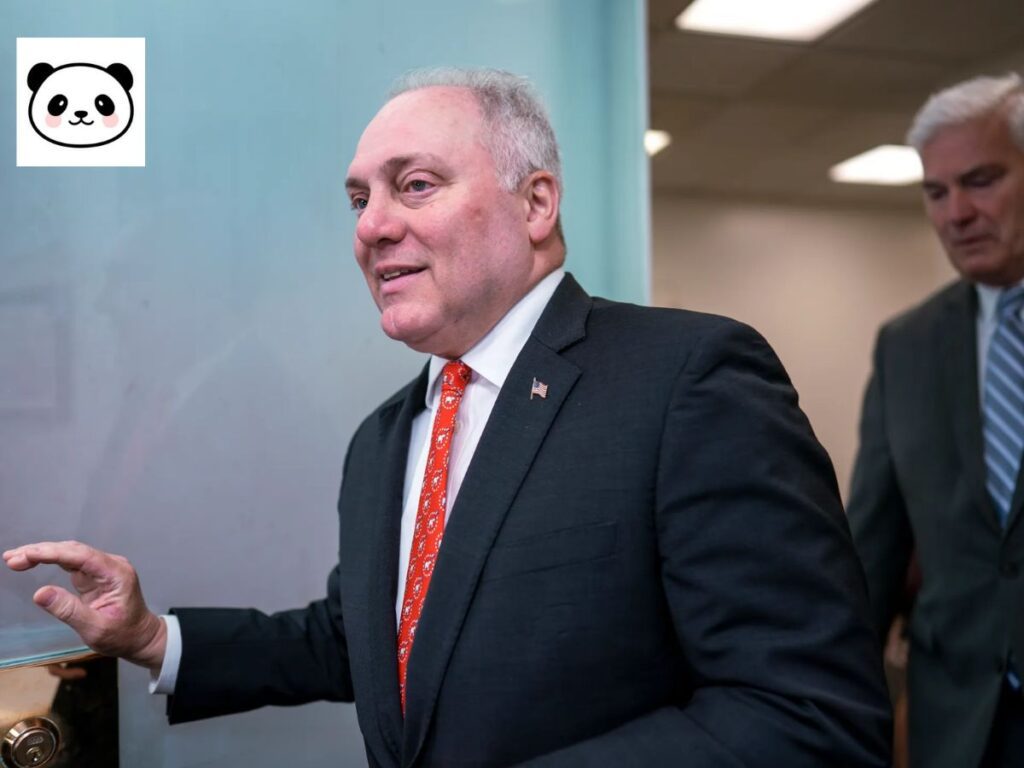 He defeated hardliner Jim Jordan in a private party vote on Wednesday.
Mr Scalise, 58, must now work to unite the divided Republicans and secure the backing of most of its representatives.
Republicans maintain a narrow majority, necessitating that he retains the backing of no more than five party members.
It is unclear when the House will be called back for that vote. A simple majority, 217, is required to win the job.
Should he succeed in this endeavor, Steve Scalise would assume the role of Speaker and bring an end to the period of legislative gridlock in the lower chamber of Congress. This impasse commenced when Kevin McCarthy was removed from office by staunch conservatives within his own Republican party.
The party has grappled with internal conflicts in recent weeks, and it appeared that they were unable to come to a consensus regarding Mr. McCarthy's successor.
The narrow margin of Steve Scalise win in the closed-door meeting, with a tally of 113 votes to 99, underscores the significant divides within the party. Some lawmakers remain skeptical that he currently possesses the requisite votes to secure the position.
One of those in continued opposition is Thomas Massie from Kentucky, who informed reporters that he maintains a firm stance, at least for the initial vote. This is due to his disagreements with Mr. Scalise regarding the approach to budget management.
Mr Massie added that he believed at least 20 other Republicans would also vote against Steve Scalise, significantly more than the five votes he could afford to lose.
Several other Republican representatives, including Colorado's Lauren Boebert, Georgia's Marjorie Taylor Greene, and Florida's Anna Paulina Luna, have said they do not intend to vote for Steve Scalise.
Texas Congressman Chip Roy has said he too is a "hard no" for now because the vote was "rushed" to the floor.
"There are a number of votes that are very much in question for Steve," he said. "I don't think it's a good idea for us to be barrelling towards the floor."
Mr. Scalise represents the more conventional candidate in this race. He ascended through the party's leadership ranks, establishing himself as a formidable fundraiser and endeavoring to forge connections with a broad spectrum of interest groups and constituencies within the party.
Speaking to reporters after the private vote, he said filling the Speaker role was vital in an increasingly "dangerous world".
"We need to make sure we're sending a message… that the House is open," he said.
Speaker race is between Trump's man and the insider
What does the US Speaker of the House do?
Jim Jordan was the outsider, who rose to fame with conservative television appearances, bombastic rhetoric, and confrontational speeches in committee hearings.
Mr Jordan was also endorsed by Mr Trump, which in the end was not enough to put him over the top.
One of the anti-Steve Scalise Republicans, Texas' Troy Nehls, cited the former president's endorsement as a reason he still planned to vote for Mr Jordan.
"That's what Donald Trump wanted," he said.
Mr. Scalise's victory suggests that behind closed doors, within the confines of secret ballots, the former president's influence within the party, especially in the House of Representatives, may not be as commanding as his popularity in public opinion polls would imply.