The arrival of October ushers in a massive wave of Halloween-related business activity. In 2022, consumers collectively spent an astonishing $3.6 billion on Halloween costumes alone, and the trend of increasing its shopping is expected to persist, surpassing pre-pandemic levels.
For many, Halloween is a time of both spookiness and joy. Local stores eagerly anticipate the surge in business that typically comes throughout October. Todd Belanger, the owner of Disguises, a Halloween and costume store in Lakewood, Colorado, notes how the pace of business intensifies with each passing week in October. However, once November 1st arrives, there's an abrupt transition from the bustling Halloween season to a quieter period for these local stores.
To maintain a year-round presence, its stores have to diversify their offerings. While it's unusual for a business to focus exclusively on one holiday and remain open year-round, costume stores have found a way to adapt. As Belanger explains, "Any Halloween store with size has to have a second business; you can't just survive on Halloween. You gotta have a thing."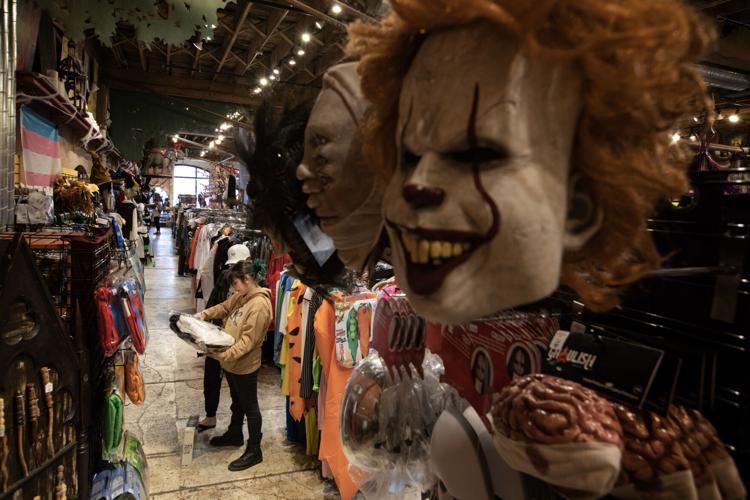 A Year-Long Celebration of Halloween:
When Kevin Pohle partnered with his business associate over 20 years ago to acquire the Wizard's Chest, a legendary Denver costume store located on Broadway, their vision extended beyond Halloween. Pohle, a passionate board and tabletop gamer, found that the Wizard's Chest had been profiting from board games and tabletop gaming for over 40 years. While the top floor of the store is brimming with costumes, the lower level houses a vast collection of board games, puzzles, and other gaming equipment. This board gaming facet contributes to approximately half of the store's annual sales, while the other half is generated during the Halloween months.
The local store market features a trio of heavy hitters, including Disguises, The Wizard's Chest, and Reinke Brothers in Littleton. All three stores have been serving their communities for more than 30 years. The secret to their survival lies in their ability to offer more than just their costumes.
The Wizard's Chest, for instance, specializes in selling games, while Disguises focuses on renting custom costumes to theater companies and schools. Reinke Brothers boasts an on-site haunted house. Despite their competition, the owners of these stores maintain a cooperative spirit. As Pohle aptly puts it, "We're all competitors, but not really. We all have our own separate businesses. So, there's a cooperation competition amongst the three of us."
Belanger shares this sentiment, expressing his admiration for the owners of both stores, describing them as "great people." He emphasizes that every costume store has its unique offerings because no single store can thrive solely on Halloween.
Disguises stand out as one of the largest public theatre stockists in the country, and its off-season revolves around creating costumes for local and national plays, as well as selling high-quality costumes to people with alternative lifestyles, such as goth and Renaissance festivals. Belanger humorously points out that "there are professional pirates in town that come in for clothes. They take it seriously."
Crimson Rose Masquerade, another costume-based store on South Broadway, derives approximately a quarter of its annual income from its sales. The remainder comes from the sale of handmade, anatomically correct corsets and other high-end "fantasy" attire.
Owner Kitty Krell explains that they have a customer base that seeks daily clothing and doesn't quite fit the norm. Having been a corset maker for over 20 years, Krell's unique experience led her to create and sell corsets for various uses, alongside locally crafted costumes and garments. Halloween is just one facet of her business.
It's in the Holiday Spirit:
Despite their different niches, local costume stores in the Denver region coexist harmoniously. They have each found their unique business lanes, whether it's board games, corsets, or theatrical costumes. However, seasonal competition remains a constant concern.
Memes have humorously circulated about the swift arrival of Spirit Halloween, a seasonal store that appears in empty buildings across the country. Spirit Halloween, currently the largest Halloween retailer in the United States, opens its doors for only two to three months each year but amasses an estimated annual revenue of $1.1 billion, according to Zippia.
Belanger jokingly reflects on what could have been if seasonal retailers like Spirit and department stores weren't in the picture. Spirit stores pop up seasonally nationwide in vacant retail spaces, with 24 locations in Colorado alone during the Halloween season. These pop-up stores often offer lower prices and enjoy national recognition, making them direct competitors with local costume giants during the busiest sales months.
However, the competition may not be as intense as it seems. As Pohle notes, they've encountered similar challenges in the board game industry for years. People can purchase board games at big-box retailers like Target and Walmart, and local businesses have adapted to coexist with these larger stores. They acknowledge the nature of being a small store in a competitive market.
All three of these local stores emphasize the significance of quality as a key factor that sets them apart from pop-up retailers. Stores like Spirit often provide affordable, mass-produced costumes for individuals looking for single-use outfits. In contrast, the local stores prioritize higher-quality options that are built to last.
Krell is proud to assert that "everything we carry is designed to actually last." Crimson Rose Masquerade caters to costume enthusiasts who appreciate long-term value, rather than disposable outfits. Pohle confirms that The Wizard's Chest consistently selects deluxe quality for its licensed costumes.
Belanger explains that Disguises offers customers the most options, which ensures that everyone can find what they're looking for. Whether a customer wants to purchase a $300 dress, rent a costume for $100, or choose from several different ready-to-wear costumes, Disguises aims to provide a diverse range of options.
All three stores underscore the idea that mass-market retailers and pop-up stores don't encroach on their business as much as some might think. Their focus on quality, commitment to distinct niches, and local support enable them to stay competitive and continue serving their loyal customers.
Krell expresses a balanced perspective, stating that she doesn't have enough knowledge about how products are manufactured to make judgments about ethics. She's not opposed to the big-box stores in theory, recognizing that they contribute to the overall excitement of Halloween.
Ultimately, Krell believes that their presence helps people get excited for Halloween. And if those customers discover a newfound enthusiasm for dressing up, they might choose to elevate their costumes and turn to local businesses like hers in the following years. The spirit remains alive throughout the year in the Denver region, thanks to these dedicated local businesses.